The Mayor (that's Brian for you uninformed...my boyfriend is the Mayor of Drunktown...) and I watch tv. Sometimes we watch a lot of tv. But we stick to what's on the dvr list most of the time. We recently added two new shows to the rotation: Planet Earth and Deadliest Catch. I haven't watched Planet Earth yet but I have heard its brilliant...but damn if Deadliest Catch isn't the most addictive thing in the world. This is high drama people...and not a wimpy "how can I pole dance in this pink thong" pussycat girl reality television...this is danger...people die on this show. For real. We love it. I think Captain Phil is Brian's hero. You should love it too. In general, I rail against reality television...but my exception is the Discovery Channel. I love Mythbusters and have been known to spend a good chunk of a sunday watching Dirty Jobs or Shark Week. Hell, I will even watch Future Weapons if the mood strikes me.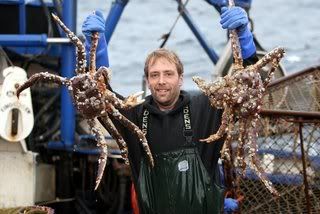 Buy the Deadliest Catch - Season 1 (5 Disc Set)
Brian watches The Riche$ (which I like but have not been watching regularly), 30 Rock, Sopranos, and Boston Legal religiously. We both love crime shows: Bones, Numbers, CSI Vegas, Law & Order: SVU and Criminal Intent made the tivo list. Then we both feel the love for Veronica Mars, My Name is Earl, Office, Supernatural, Dresden Files, and Heroes. Then I have my geek shows: Smallville, Stargate, and Stargate Atlantis. We love Battlestar but we fell behind and are desperately waiting for the the season three dvds and dodging spoilers left and right.
So I think that's it...lots of tv...sweet sweet tv.